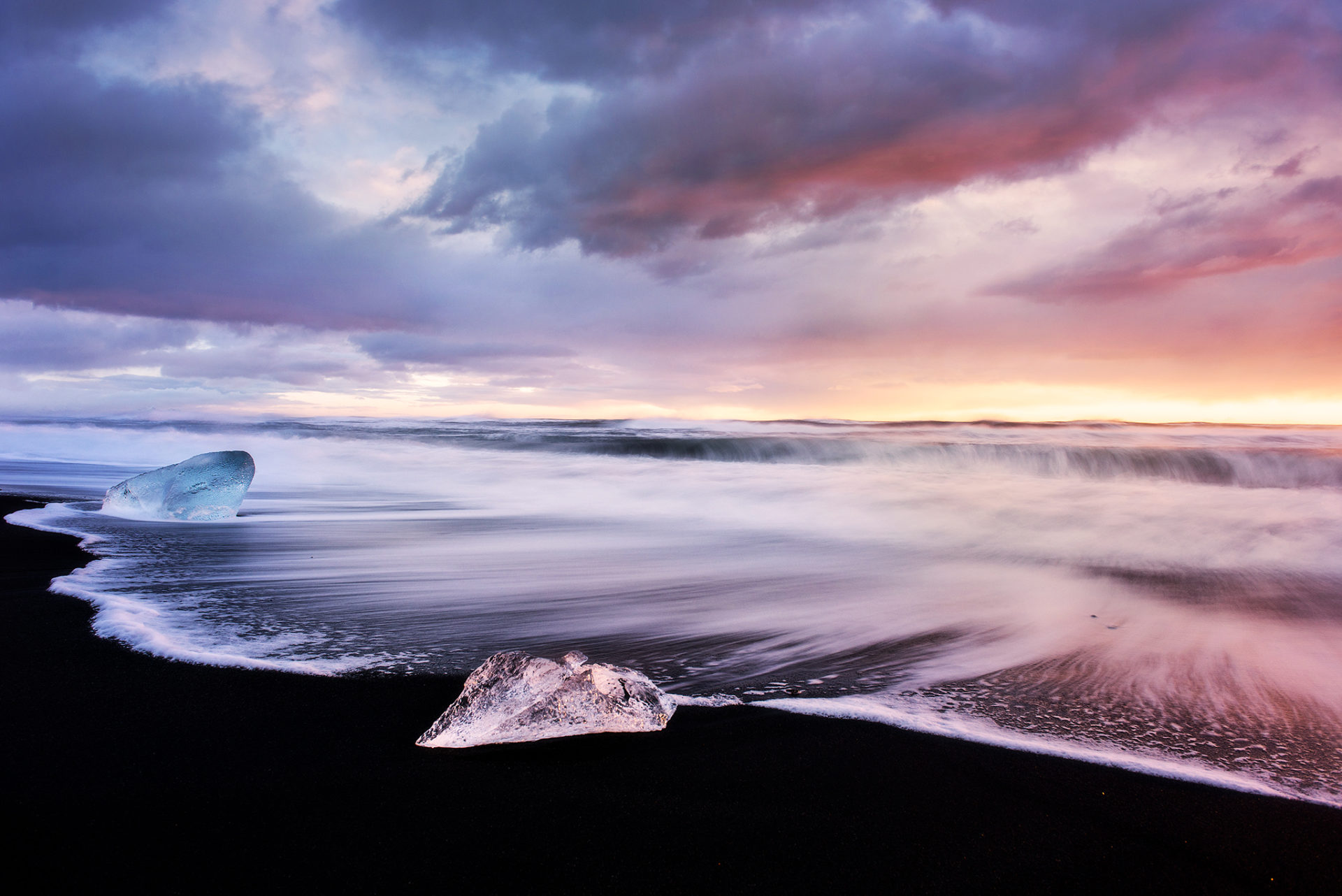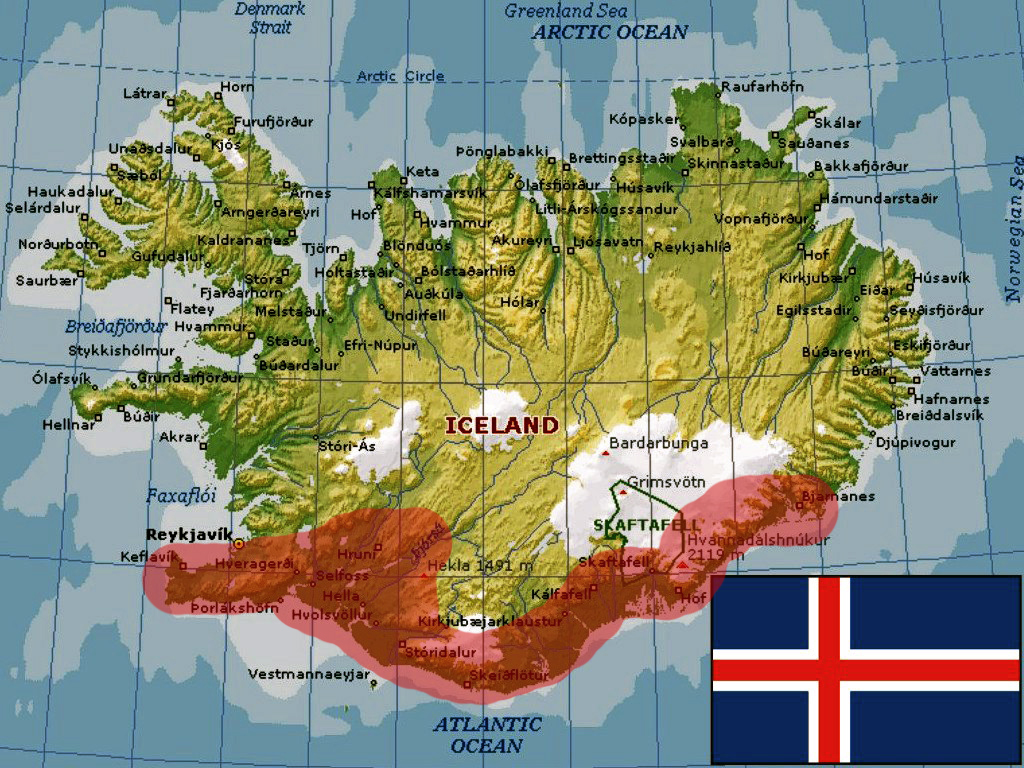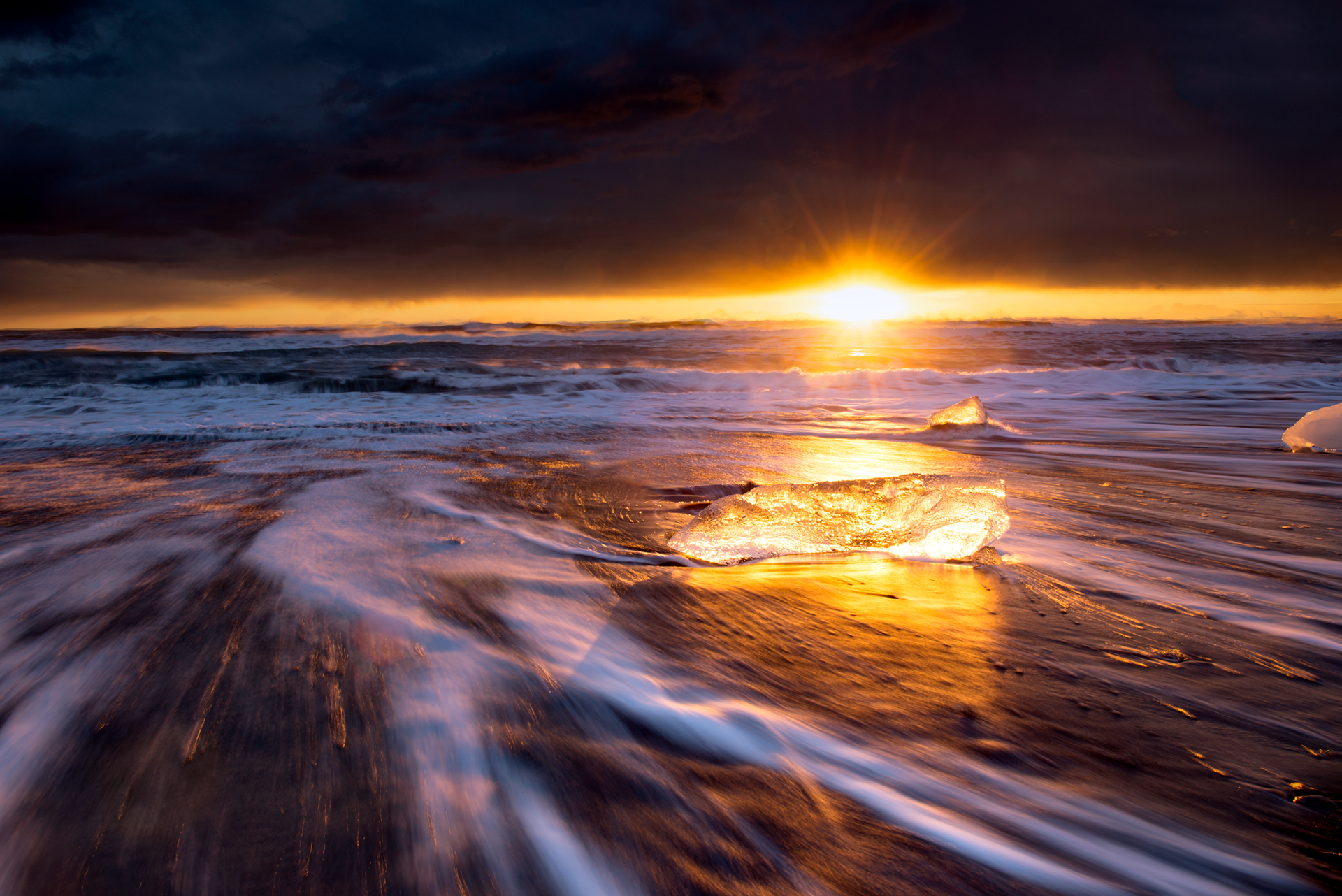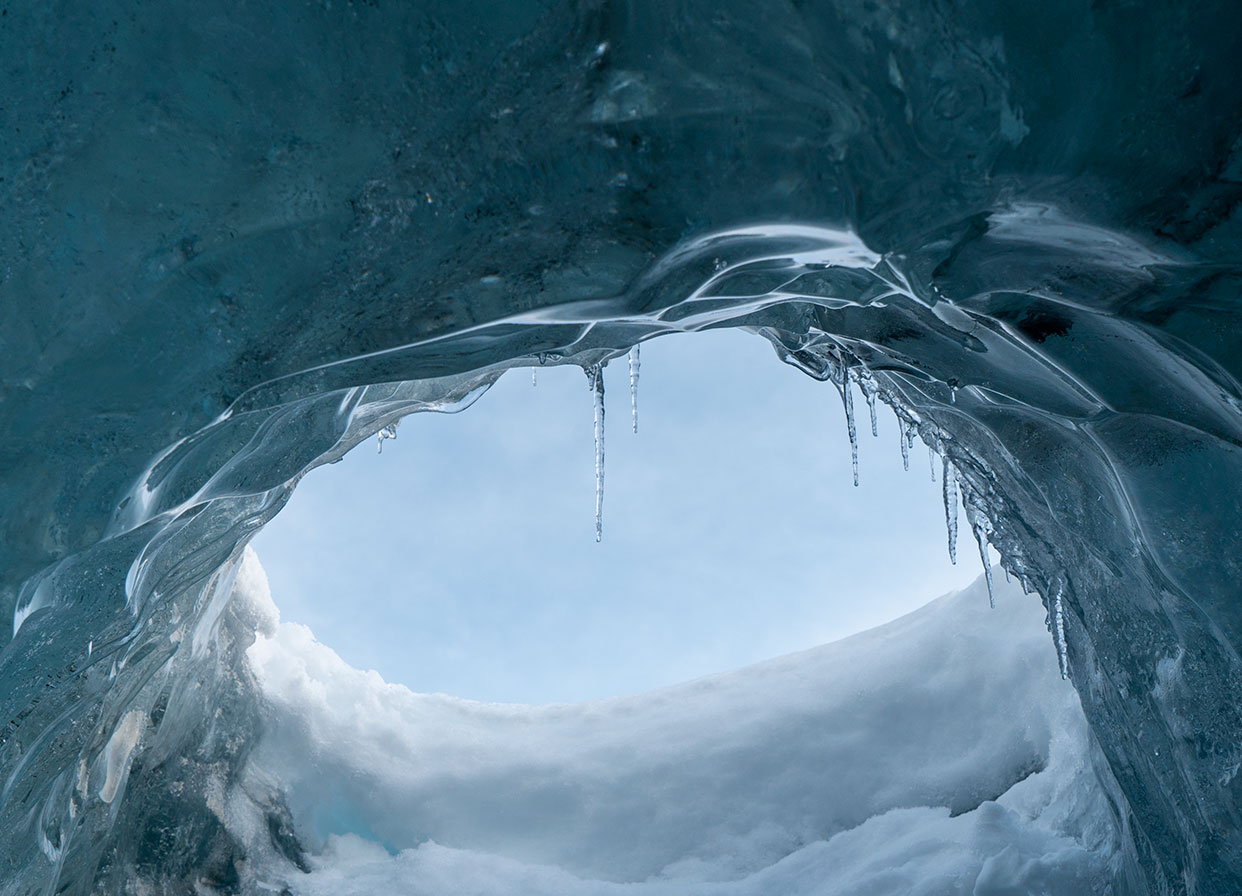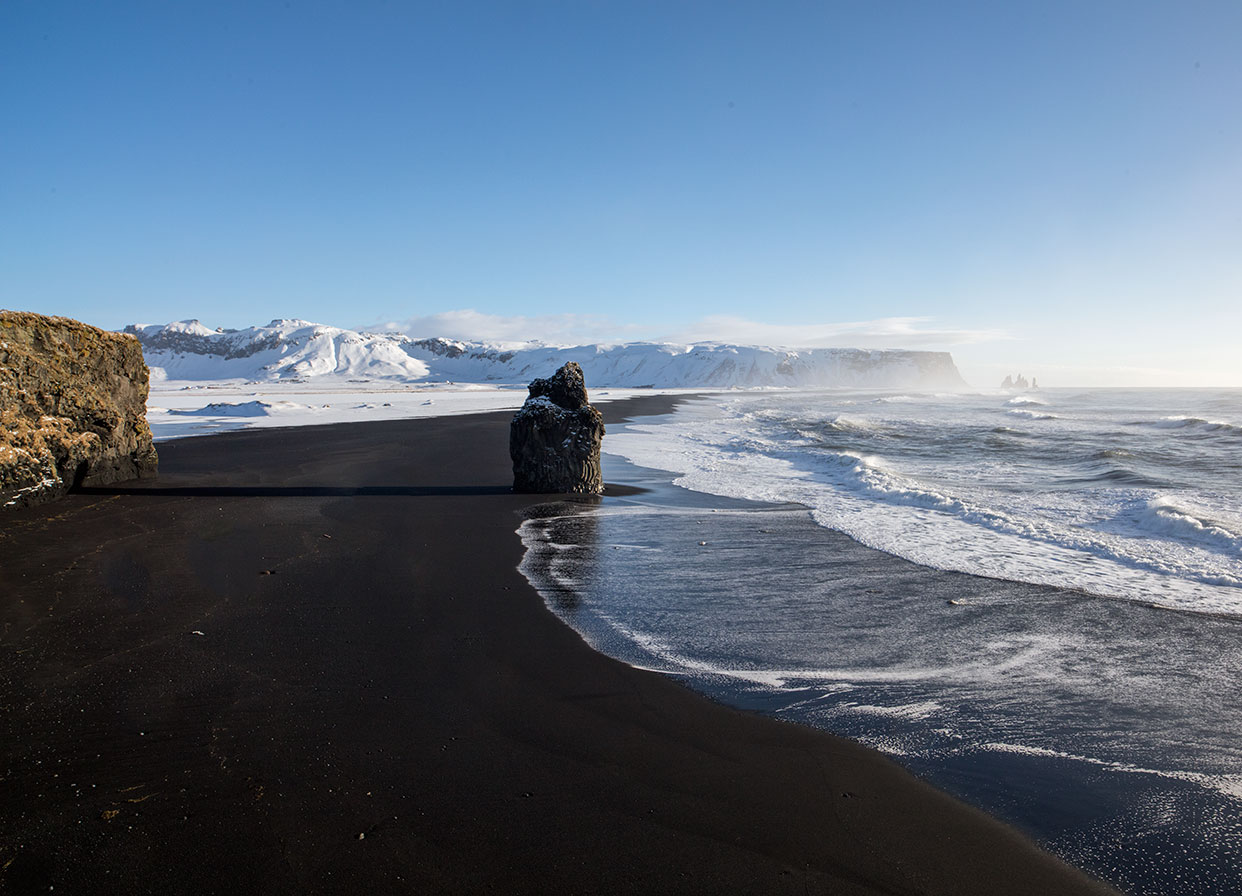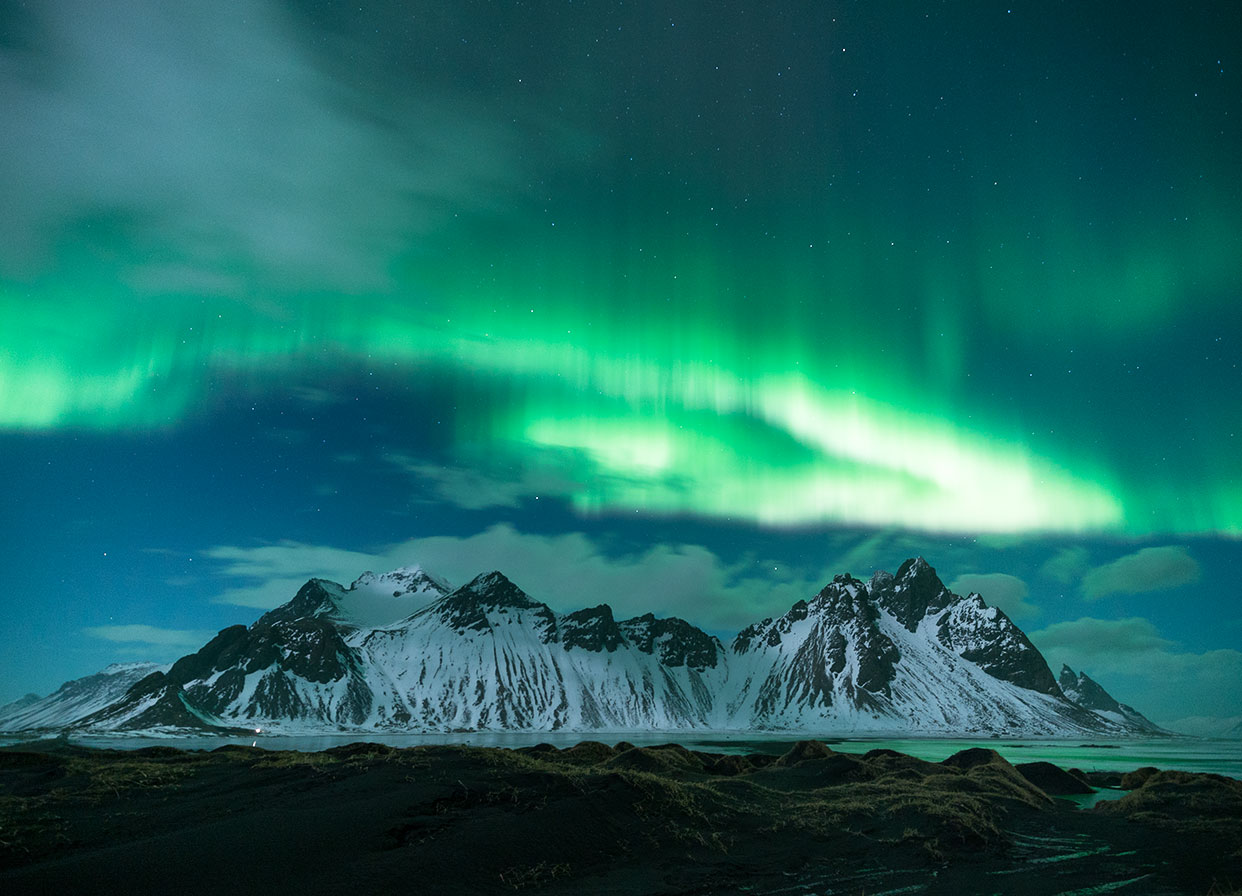 South Iceland
Monday 19 - Saturday 25, March 2018
5 nights / 6 days
2'850 EUR to 3'250 EUR
This 6-day photo trip takes you through the most beautiful places on the South coast of Iceland.
From famous waterfalls Skógafoss and Seljalandsfoss to the town of Höfn and famous Vestrahorn Mountain, the vast black sand beaches and of course the ice cave tour inside of Vatnajökull Glacier. During the trip we will travel in two 4x4 vehicles and visit some of the best known places, and also less known gems of the South. If the forecast will be promising, after dinner in the very best hotels on the South coast of Iceland nightly Aurora hunting will begin and we will photograph the beautiful scenery we saw during the day in the light of Aurora Borealis.
Tour dates: 19.3. – 25.3.2018
Availability: 6 places. NOTE: minimum 4 persons required to guarantee the departure!
Dificulty level: easy
Locations: Vik, Vatnajökull National Park, Jökulsarlón Glacier Lagoon, Höfn
Guides: Réza Kalfane, Valentino Valkaj
Price including 200 EUR Early Bird discount, based on shared accommodation. Single accommodation possible by request for extra fee:

4 people option / 3250 EUR per person
5 people option / 3050 EUR per person
6 people option / 2850 EUR per person

Early Bird discount is valid if you reserve your place and pay a deposit until 30.01.2018
Deposit: 900 EUR
Included
Pick up / drop off at Keflavik Airport
All transportation during the tour in two 4x4 vehicles
Photo tour guidance by two landscape photographers
Accommodation for 5 nights in the best hotels in Iceland (based on double/ occupancy, which means you will share a room with another person from the group, single occupancy is possible by request)
3 meals per day (breakfast, lunch-snacks, dinner)
Not included
Flights
Insurances
Photography gear
Single accommodation
Main features
Spectacular winter scenery with mountain peaks that are dripping straight to the Atlantic Ocean
Reykjavik, Reykjanes, Vik, Black sand beach, Vatnajökull, Ice Cave, Jökulsarlón, Vestrahorn
Professional photo guidance by two landscape photographers
Gorgeous winter light and Northern Lights during the night
Very best hotels and food
Travelling in style with two comfortable 4-wheel drive vehicles capabwith enough space for you and your photo gear
The workshop is suitable for all photographers, amateurs or pros
Itinerary
Day 1,Arrival in Reykjavik, welcoming dinner
On the first day, we will welcome you when you arrive at Keflavik International airport. First night we will be staying in Icelandair Hotel Reykjavik Marina which is perfectly located as a starting point to our adventure to the South coast of Iceland. On the welcoming dinner we´ll get to know each other and discuss about our plans over the next 5 days.
Day 2, Seljalandsfoss, Skógafoss, Arrival in Vik
Second day we will start after a big breakfast. On the way to Vik we will visit some of the famous waterfalls, Seljalandsfoss and Skógafoss. Depending on the road conditions, we might stop at the DC-3 plane wreck on the black sand beach. We expect to arrive to our destination hotel in Vik in the late afternoon. After the dinner, depending on weather conditions and forecast, we will go out to shoot Aurora Borealis.
Day 3, Jökulsarlón Glacier Lagoon, Diamond Beach
We are starting early because we have a lot to see. After the breakfast and a sunrise shoot, we continue our journey to Jökulsarlón Glaciel Lagoon where we will explore the lagoon and the black sand beach with the icebergs. Again, if the conditions will allow us, later in the evening, we might go out to shoot the Northern Lights,
Day 4, Stokksnes, Ice Cave and sunset at Jökulsarlón
One more early start, we tend to shoot the sunrise at Stokksnes, the famous mountain not far from Höfn. Black sand dunes in front of the mountain, along with reflections make a perfect place for photographers. Later we will start our journey back to the Vatnajökull National Park where we will visit one of the ice caves that formed inside the glacier. It´s one of the highlights of the trip and we will go crazy there. After the ice cave tour we will shoot a sunset on the black sand beach.
Day 5, Black sand beaches, Lava fields, arrival in Keflavik
After the breakfast at the hotel in Vik we continue our journey back to the west where we will explore even more the black sand beaches, wast lava fields and some of the waterfalls. Later in the afternoon we are arriving in Keflavik where we´ll spend our last night together.
Day 6, Departure day
It´s 23rd of February, departure day, after the breakfast we will drop you off at the Keflavik International airport where we will say our goodbyes.
From our experience, very exact itinerary for the trip is not possible, as we might change our plans according to the weather conditions.
Accommodation
We will be staying in the beautiful Icelandic hotels that are perfectly located near the best places and with the most amazing Icelandic couisine. If you want to be a single person accommodated, extra fee applies.
Clothing
Warm, windproof, layered and water resistant clothes are required, along with water resistant winter boots. Weather in Iceland can be challenging and is constantly changing.
Photography gears
Camera with manual functions
Wide and a normal zoom lens (up to 70mm), telephoto zoom lens (200mm >) is recommended
Tripod
Camera backpack
Cable release
Neutral density filters are recommended
Extra storage for backing up your files highly recommended
Important
Reserve your flight on time. When reserving, pick Keflavik International airport as a final destination. Numerous airlines fly to Iceland on a daily basis from all over the world. Icelandair has very good connections with U.S. and Europe, and in my opinion, it's one of the best airline companies today, check out their Stopover up until 7 days.
Book your flight with arrival no later than 5 p.m. If you need any help with flight bookings please contact us.
Maximum number of participants is 6 and minimum to guarantee the departure is 4.
A non-refundable (unless exceptional cancellation of the Tour) deposit of 900 EUR will be required to secure your booking, with the balance due 30 days prior to commencement of the Tour.
No insurance is included in the Tour price, so make sure to have all necessary travel and gear insurance. Tour guides cannot be held responsible for any loss or damage during the Tour.
If you have any questions feel free to contact me at any time. Reserve your place by contacting me at email and I´ll get back to you with instructions how to make the payment.